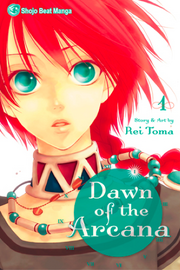 Information:
Dawn of Arcana (黎明のアルカナ) is a manga written and illustrated by Rei Toma. It started running in Cheese! in 2009, whereas the last chapter was published on 24 June 2013. The manga has 13 volumes.
Alternative title:
L'arcane de l'aube (French), published by KAZE
Dawn of Arcana (English), published by VIZ media
Dawn of Arcana (German), published by Carlsen Comics
Reimei no Arcana (黎明のアルカナ) (Japanese), published by Shogakukan
Story:
Princess Nakaba of the country Senan is forced to marry Caesar, a prince of the enemy country Belquat. Caesar is very handsome, but also possessive and arrogant. He calls Nakaba  his "property" and from that point on, she has to cope with her hostile surroundings and the fake marriage as well as her hidden power, the Arcana. Only her Ajin friend Loki is by her side.
Volume and chapter list:
Volume 1: Chapter 1 - 3
Volume 2: Chapter 4 - 7
Volume 3: Chapter 8 - 11
Volume 4: Chapter 12 - 15
Volume 5: Chapter 16 - 19
Volume 6: Chapter 20 - 23
Volume 7: Chapter 24 - 27
Volume 8: Chapter 28 - 31
Volume 9: Chapter 32 - 36
Volume 10: Chapter 37 - 40
Volume 11: Chapter 41 - 45
Volume 12: Chapter 46 - 
Best seller list entries:
Rank 8 for volume 9 (New York Times Manga Best Seller List, April 28-May 4) (1)
Rank 36 for volume 12 with 31,741 total copies (Japanese Comic Ranking, April 21-27) (2)
Rank 46 for volume 12 with 61,242 total copies (Japanese Comic Ranking, April 28-May 4) (3)
External Links:
Edit
(1) http://www.animenewsnetwork.com/news/2013-05-10/new-york-times-manga-best-seller-list-april-28-may-4
(2) http://www.animenewsnetwork.com/news/2013-05-01/japanese-comic-ranking-april-21-27
(3) http://www.animenewsnetwork.com/news/2013-05-08/japanese-comic-ranking-april-28-may-4